Little Black Dress goes Tropical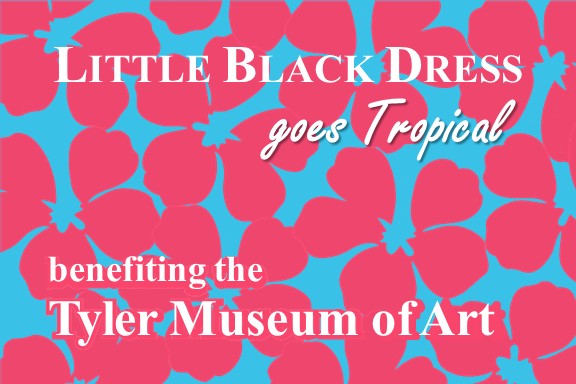 The TMA's signature fall fundraiser is back! Join us at Willow Brook Country Club starting at 6:30 p.m. Thursday, September 26 for festive food, cocktails, art and live entertainment by the Bamboo Boat Band, celebrating an island theme!
Individual tickets are $125 for TMA members and $150 for non-members. To order your tickets today, click on one of the two buttons below and follow these simple steps:
1) Enter your e-mail address
2) Click the "Give" button
3) Select the "Continue as Guest" button at right
 
For more information, call (903) 595-1001. 

LITTLE BLACK DRESS 2019 SPONSORS
The Byars Foundation/Betty & Dick Summers
Julietta Jarvis Foundation, Inc. 


/Margaret & Jim Perkins
Carol & Jack Gibson
Dr. D.M. Edwards
Marilyn Abegg-Glass/Barbara Shtofman

Drs. Susan Fasulo & David Di Paolo

Mr. & Mrs. Eric Roberts/Thompson Architectural Group

Amy Faulconer

Shannon & Chris Glenney

Lisa & Michael Lujan

Dr. Julie Philley & Mr. Richard Lee

John & Ellen Musselman
Agnes & Dr. Frank Ward

Tricia & Steve Wiggs


Sandy Wilson