Bold Lines: Works by Joseph Glasco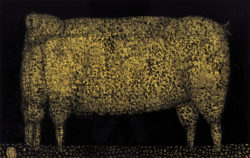 The Tyler Museum of Art celebrates the career of an influential abstract expressionist with strong ties to the Tyler community in its next major exhibition, Bold Lines: Works by Joseph Glasco. The exhibition opens to the public Sunday, Nov. 24 and runs through Feb. 16, 2020 in the Museum's Bell Gallery.
Members and special guests are invited for a first look at the exhibition during the Preview Reception from 5:30-7 p.m. Saturday, Nov. 23 at the Museum, 1300 S. Mahon Ave. on the Tyler Junior College main campus. To RSVP or for information on becoming a TMA member, call (903) 595-1001, visit www.tylermuseum.org/membership/  or follow us on Facebook at https://www.facebook.com/Tyler.Museum.Of.Art/
General Museum admission is $5 for adults and $3 for senior citizens. TMA members, students, children under 12, TJC faculty and staff, and City of Tyler employees are admitted free.
Organized by the TMA and curated by Caleb Bell, Bold Lines surveys the vast body of work by Glasco (1925-1996), an artist born in Oklahoma but raised in Tyler. His artistic eye developed early as he grew up in East Texas, moving on to study art at the University of Texas at Austin before being drafted for military service in World War II.
After the war, Glasco lived in Dallas and drew advertisements for Dreyfuss Department Store before continuing his study of painting in Los Angeles and Mexico. His 1949 move to New York led to a friendship with collector Alphonso Ossorio, who introduced Glasco to several major artists of the era including Jackson Pollock and Jean Dubuffet. That same year, he became the youngest artist at the time to be included in the Museum of Modern Art's permanent collection when the institution acquired one of his drawings according to an artist bio provided by Talley Dunn Gallery, which represents Glasco's estate.
His career took off dramatically as a result of his inclusion in the groundbreaking 1952 MoMA exhibition Fifteen Americans, which also featured the work of luminaries such as Pollock, William Baziotes and Mark Rothko. Glasco's work eventually made its way into the permanent collections of some of the most prominent museums in the U.S. including the Guggenheim Museum, Whitney Museum of American Art, Metropolitan Museum of Art and the Museum of Fine Arts, Houston.
Bold Lines offers a glimpse at how Glasco's work evolved over the years from stylized representational forms to heavily patterned, geometric approaches to figures and eventually into the abstract collage painting and sculpture from his final years in Galveston, for which he is best known. The exhibition features four of Glasco's works held in the TMA's Permanent Collection in addition to pieces on loan from collections throughout Texas as well as the artist's estate.